UTRtek D.I.R. Level
Organigrammi Didattici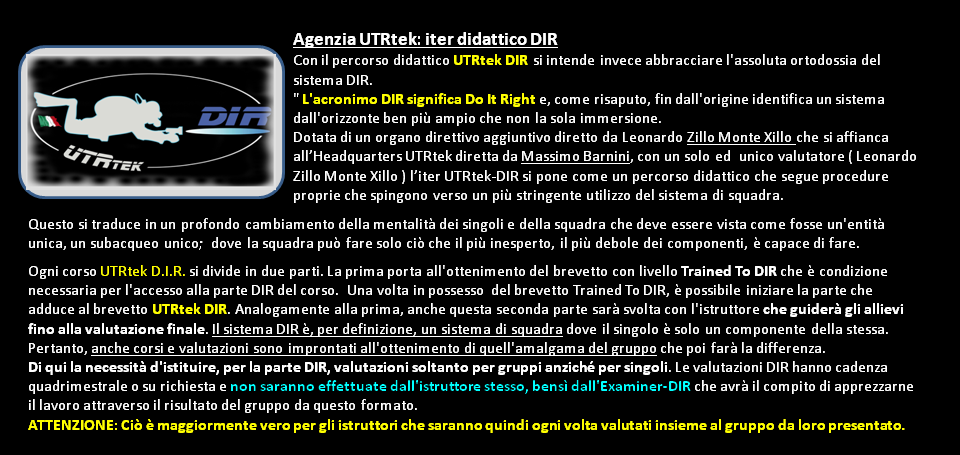 Con il percorso didattico UTRtek DIR si intende invece abbracciare l'assoluta ortodossia del sistema DIR.
" L'acronimo DIR significa Do It Right e, come risaputo, fin dall'origine identifica un sistema dall'orizzonte ben più ampio che non la sola immersione.
Dotata di un organo direttivo aggiuntivo diretto da Leonardo Zillo Monte Xillo che si affianca all'Headquarters UTRtek diretta da Massimo Barnini, con un solo ed unico valutatore ( Leonardo Zillo Monte Xillo ) l'iter UTRtek-DIR si pone come un percorso didattico che segue procedure proprie che spingono verso un più stringente utilizzo del sistema di squadra.
Questo si traduce in un profondo cambiamento della mentalità dei singoli e della squadra che deve essere vista come fosse un'entità unica, un subacqueo unico; dove la squadra può fare solo ciò che il più inesperto, il più debole dei componenti, è capace di fare.
Ogni corso UTRtek D.I.R. si divide in due parti. La prima porta all'ottenimento del brevetto con livello Trained To DIR che è condizione necessaria per l'accesso alla parte DIR del corso. Una volta in possesso del brevetto Trained To DIR, è possibile iniziare la parte che adduce al brevetto UTRtek DIR. Analogamente alla prima, anche questa seconda parte sarà svolta con l'istruttore che guiderà gli allievi fino alla valutazione finale. Il sistema DIR è, per definizione, un sistema di squadra dove il singolo è solo un componente della stessa. Pertanto, anche corsi e valutazioni sono improntati all'ottenimento di quell'amalgama del gruppo che poi farà la differenza.
Di qui la necessità d'istituire, per la parte DIR, valutazioni soltanto per gruppi anziché per singoli. Le valutazioni DIR hanno cadenza quadrimestrale o su richiesta e non saranno effettuate dall'istruttore stesso, bensì dall'Examiner-DIR che avrà il compito di apprezzarne il lavoro attraverso il risultato del gruppo da questo formato.
ATTENZIONE: Ciò è maggiormente vero per gli istruttori che saranno quindi ogni volta valutati insieme al gruppo da loro presentato.